As many as a million people are expected to gather for a vigil with Pope Francis near Kraków on Saturday evening, with even bigger crowds anticipated for the pontiff's final mass of his five-day trip to Poland on Sunday.
Both the vigil and mass will be celebrated at Campus Misericordiae – field of mercy – in Brzegi, about nine miles from the city centre, with most young pilgrims who are in Kraków for the World Youth Day festival walking there and back.
"We expect up to 1 million pilgrims at [Saturday's] vigil with the pope at the Campus Misericordiae and anywhere from 1.5 million to 1.8 million participants at the closing mass on Sunday," Dorota Abdelmoula, a spokeswoman for the WYD organisers, said.
Turnout would depends on the weather, she added. There have been thunderstorms and downpours since the pope arrived in Poland on Wednesday.
More than 350,000 pilgrims from 187 countries have formally registered as participants in World Youth Day, but organisers believe there are thousands more in Kraków unofficially. About 800,000 people are thought to have attended a Way of the Cross ceremony on Friday evening.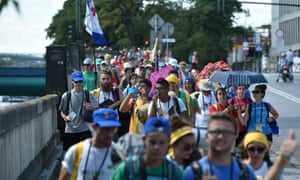 Numbers at Sunday's mass are expected to be boosted by the presence of Poles from across the country, the most devout in Europe with more than 90% of the population identifying as Catholic and some 40% attending mass at least once a week.
The WYD festival, which was last held in Rio in 2013, has been a major feat of organisation. About 200 schools have been commandeered to provide pilgrims' accommodation, and 500 parishes enlisted to host young people.
Registered pilgrims are given food vouchers that can be exchanged for meals at designated outlets. The vouchers are specific. "Ticket to obtain a meal, with at least one warm dish, with a calorific value of a minimum of 790 kcals," read one. Pilgrims reported queuing for up to two hours to collect food.
Despite the mixed weather, spirits have been high. "This is the world we'd like to always live in," said Gladys Joseph, 20, from Bristol. "There are so many nationalities and people are so friendly. This is how it should be."
Many are attending talks given by bishops every day, the most popular of which are attracting audiences of up to 20,000 people. Some last for three hours.
Clare Stewart, 32, from Manchester, and her brother Stephen, 25, from Worcester, attended a so-called catechesis focusing on pro-life issues and chastity. "There was a husband and wife team among the speakers, who spoke about struggling with an addiction to pornography," said Clare. "They said: go to confession and you'll feel it's been taken off your shoulders."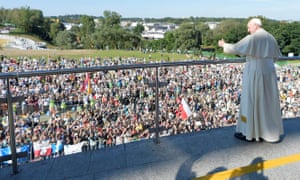 The siblings had also attended a talk by Cardinal Luis Antonio Tagle, from Manila, who spoke of the need for love in a violent world. "Everyone was fired up, buzzing. He got a standing ovation," said Stephen.
They said Francis had given young Catholics the confidence to talk freely about their faith. "This week will stay with us for a long time," said Clare.
On Saturday, the pope visited the Divine Mercy shrine and celebrated mass at the shrine of St John Paul II. The "Polish pope" is still revered by his fellow countrymen and women, while many Polish bishops are uneasy with Francis's views on issues such as refugees and climate change.
The pope also reflected on his visit to the site of the Nazi death camp at Auschwitz-Birkenau at his nightly appearance on the balcony of the bishop's palace, where he is staying.
"I must tell the truth. Cruelty did not end in Auschwitz-Birkenau," he told crowds on the street below. "In today's world there is still cruelty. We can say that we witnessed atrocities 70 years ago. People were executed by firing squad and suffocated in gas chambers.
"But today, in so many places in the world where there is a war going on, the situation is exactly the same. This is the reality."